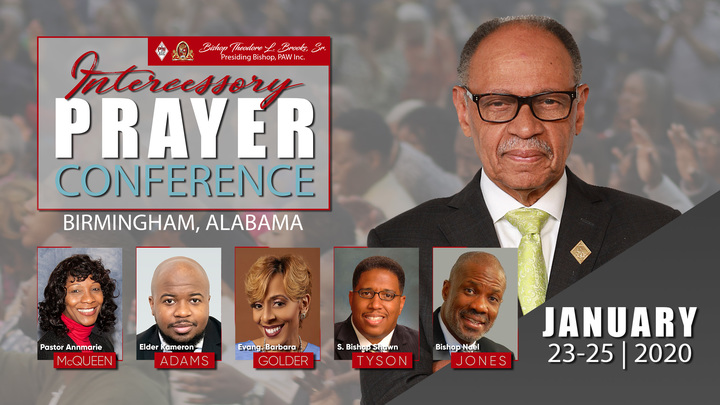 PAW Inc. Intercessory Prayer Conference Resources
Dates & Times
Jan 23-25, 2020

6:30pm - 12:30pm
Attendee Types
"1000 People Praying" Prayer T-shirt, Prayer Journal, and Preferred Seating

$25

"1000 People Praying: Read Fast Pray Repeat" Prayer T-shirt, Prayer Journal, and Preferred Seating

$25

"1000 People Praying: 2020 Vision" Prayer T-shirt, Prayer Journal, and Preferred Seating

$25
Details
Welcome to the online Intercessory Prayer Conference resource portal!
We look forward to seeing you at the PAW 2020 Intercessory Prayer Conference "Now It Shall Spring Forth". This Conference event will be held in Birmingham, Alabama at Faith Apostolic Church from January 23-25, 2020.
Prepare For Your Experience With These Resources...
For only $25 per person, you can get these awesome resources to help complete your prayer experience. Learn more about available options at PAWINC.ORG.
Select and receive one of three Prayer T-shirts: "1000 People Praying" (OR) "1000 People Praying: Read Fast Pray Repeat" (OR) "1000 People Praying: 2020 Vision".
Receive one "Apostolic Word" Prayer Journal.
Receive preferred seating throughout the entire event.
Additional Notes
*This event does not require registration, so this offer is completely voluntary.
*All resources can only be retrieved at the onsite information desk.
*Use the "Add-on" option to purchase additional t-shirts.